Updated at AP on 21 Sep 18.
On this installment, we'll look at what would be Level III, or the 'Existence Load.'  Please note that brands are not what is being recommended here (everyone seems to have their own favorites); only the category/type of item.  For purposes of this post, a pistol is a pistol, a fixed blade knife is a fixed blade knife, etc.  Most importantly, your mileage may vary on what you need as Level 1 in your own AO.  Remember to not over do on item selection for any of the levels.  You have to carry it all….that said, this is what we recommend for baseline gear/equipment leveling:
Level 1 Contents in no particular order (and some are not included in the pictures):
Presume you have AO/Season appropriate clothing on your person, so we won't go into that.
Cotton Balls or some other very light fire starter
Signalling Whistle
Stabilized Oxygen (water purification)
AO Map – Usually a state map showing major roads, cities, etc, (this would be in addition to any topographical or aerial photograph maps you have in your level 2 or 3 list.
Water proof bag to keep small L1 items together (should fit in a cargo or pants pocket)
'Space' Blanket'
Magnesium or Ferro Rod fire starter (I prefer the ferro rod; others like the magnesium – I keep my ferro rod on a piece of 550 cord around my neck…works for me.)
12 inches of 100 mph tape
1 unlubricated prophylactic – relax – it's an emergency water container
Fixed blade knife of 6 to 8 inches
Small sharpening stone – in the picture below, that is kept in the snow sealed, riveted sheath
Compass – As seen, this one is in the knife cap
Small, individual survival kit – in the knife handle; can include a few fish hooks, a few matches, etc.
Side arm & one magazine
Holster – in this case, the owner is using a simple trigger guard with belt attachment for IWB carry.  I prefer either a belt or should holster.  In any event, the pistol is on your person 24/7, even when you're sleeping – never out of reach, always ready in an instant.
Small bag with a couple packets of MRE toilet paper and a couple disinfectant wipes (even in dire straights, keeping yourself clean as possible will keep you going longer as your body won't have to fight an illness while using its energy reserves you're counting on).
A high quality multi-tool in a pouch on your knife sheath or belt or in a pocket.  This is just as important as your fixed blade knife and pistol.  This item, really, depending on what's chosen, one of those things you'll find you really need.  DTG actually carries two; one affixed to the knife sheath and one in my accessory pouch.  One is a Leatherman MUT, and the other a Gerber 600 one hand opening needle nose.  In. De. Spensible.
One quart size plastic bag to keep things in (can also double as another water container).
Other items can be easily added, such as

10X monocular, kept in a shirt pocket
Lighter (highly recommended)
Wrist Watch – On your wrist, obviously, and one might consider a self-winder or manual wind (EMP, you know).
As you can see from the second picture below, it all goes very nicely in the dry bag, and its scale/weight will do very nicely in a cargo or even a large shirt pocket.  Knife goes on the belt, and the pistol goes into an appendix carry in this case.  If you use a belt holster for your pistol, make sure to balance your belt with the pistol on one side and the knife on the other.
Level 2 Contents in no particular order: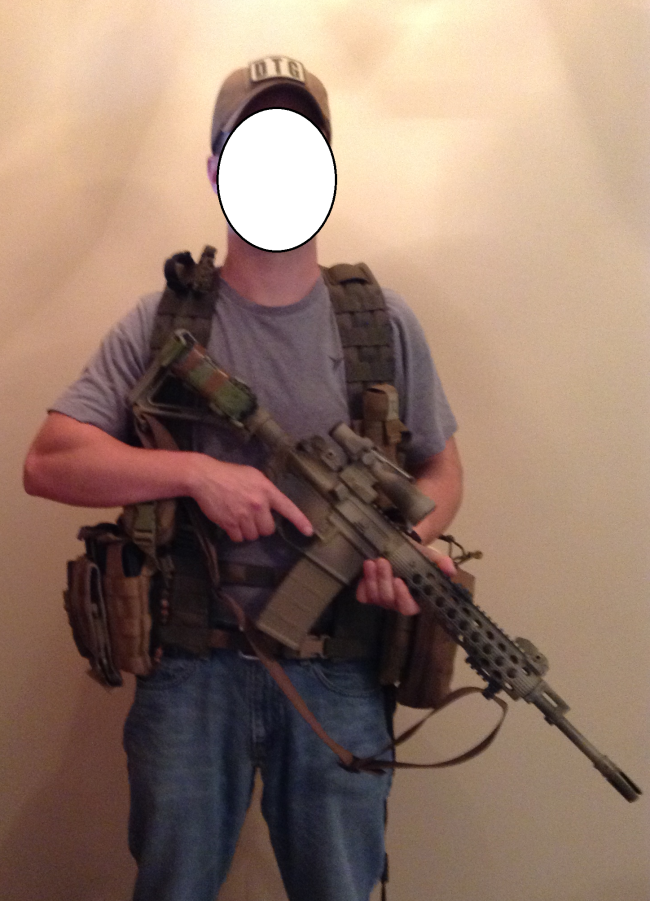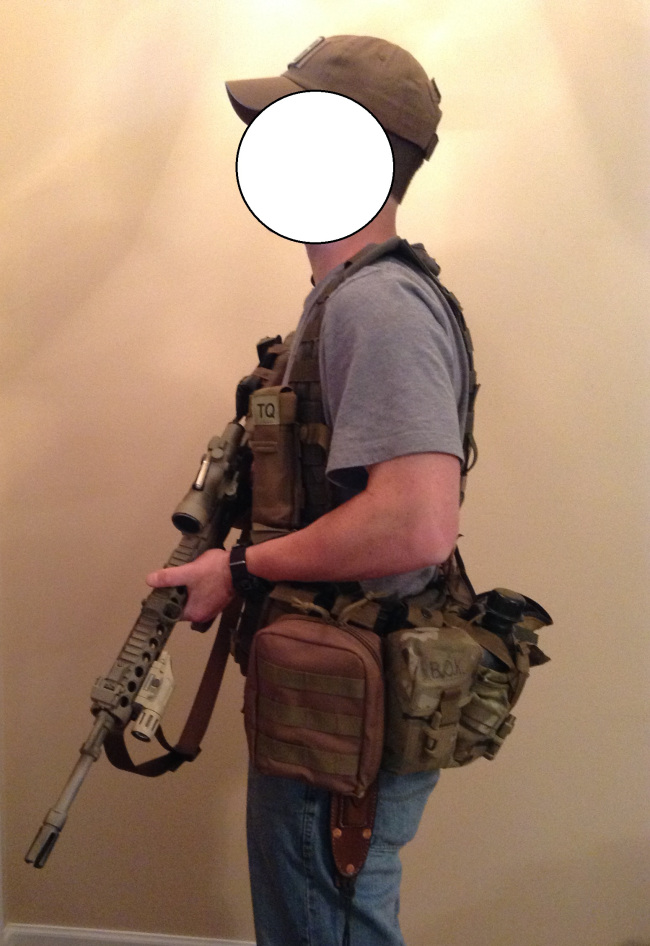 Carbine & primary magazine – the carbine should be set up as a practical combat carbine w/optics and possibly a weapon mounted light, depending on product.  Remember, a 'negligent light up' in the dark could get you killed.
H-Harness or LBV – Remember DTG does not recommend chest rigs as 'general purpose' gear.  They're great for specific applications, but, at least in our opinion, don't fit the definition used for selection as general purpose.  As always, your mileage may vary.
Ammo pouches to hold six standard capacity (30 rounds) magazines with appropriate ammunition.
Compass pouch w/primary compass.
Accessory pouch with those accessories a NPT member might need for security operations.  Could contain things like:  Headlamp, earplugs, 3 or 4 inch blade folding knife (for small chores like opening food packets), eating utensil, spare batteries, small bottle of CLP, 4 way spigot key (can turn on a lot of faucets if needed in an urban/suburban environment, etc.  Your call, as it's what you believe you'll need and will be on your harness/LBE.
CAT (Combat Application Tourniquet) –  DTG carries an additional one taped to the outboard side of the carbine stock in order to have two; one of which is immediately available,  DO NOT use 100 mph tape!!  You'll never get your CAT off the rifle in time to use it.  1.5 wraps of electrical tape on each end of the CAT will do it.
BOK – AKA, 'Blow Out Kit' or Traumatic Hemorrhage Kit complete with coagulants, chest seals, etc.  It all depends on what kind of care you think you can get post use of the BOK.
Mini-IFAK – Includes band aids, triangular bandages, snake bit kits, etc, again, depending on your AO  (if you're narrow waisted, and don't have a lot of 'real estate' on your LBE, you might consider a cargo pocket or a shirt/jacket pocket.  In cooler weather, a British Windproof Smock or similar jacket with many pockets would help on this.  DTG uses a smock for L1 add ons and L2 items that won't fit on the LBE, and it works – make sure you test what you come up with).
Radio – Make sure you check out Brushbeater's radio series if you're not quite sure what you should have or how you'd use what you do have.
Level 3 Contents:
These are what old-schooler's refer to as 'Existence Load' items.  Again, in no particular order:
Entrenching tool
6 additional loaded standard capacity magazines in bandoleer
Water bladder (additional or primary – depends on what you can carry)
Lean to (tarp, poncho, etc) – The USMC field tarp, British Basha, Aqua Quest Defender, Noah's Tarp, etc, seem to be very popular and work well.  DTG has used all the listed examples.
Sleeping bag/poncho liner & additional tarp (depending on season/AO)
30 ft 1/2 inch rope
Carabiners
3 Duke 110 traps
3 'Yo Yo' reels
Naglene water container
Utility pot (canteen cup – DTG prefers the WWII/Korea models with the solid handle vice the 'butterfly grips')
1 spare set of pants/shirt
3 spare sets of socks
1 pair thermal underwear
Spare batteries
Spare compass
Four 50 ft hanks of 550 cord
Tinder packet
Sharpening stone
3 day pack
"MAC" sacks (one way valve waterproofing bags)
Kukri or Machete (not pictured) – personally, DTG likes the Kukri – it can take a LOT of use/abuse for survival situations
Equipment Repair Kit – Heavy Material Stitcher, Goo, 100mph tape, or whatever you think you'll use to repair gear that becomes damaged in the field
6 full meals (that doesn't mean MRE's, either, unless you 'field strip' them.  DTG does a mix of Mountain House vacuum packed, field stripped MRE's, and other small items that equate to 4 days of meals.
Add what you need, but the trick here is to have what you really need in the Existence Load, but not over pack, and BE ABLE TO CARRY FOR AT LEAST 5 MILES what you have without falling over, and then still being able to set up a RON (Remain Over Night) location when you get to your way point.
And there you have it.  The image below shows a NPT member with all Levels mounted.  Again, these photos are for demonstration, and therefore, no field clothing is being used by the model.