Posted at AP on 8 June 18.
While many in the prepper world have heard of this amazing book series, many times more folks have not!  In fact, I'd venture that there are literally hundreds of thousands, if not millions of people who are concerned about possible hard times on the horizon who haven't heard about this treasure trove of information!  This post is offered in that light – to raise awareness of what treasure of knowledge can be obtained for small cost in dollars.
These wonderful books contain priceless information that anyone, of any age, anywhere, can use to increase their knowledge of, 'the old ways' for that will see them through harsh times, off-grid living, or learning and teaching the 'old' traditions.
The book began as an English class project published in a magazine, and eventually morphed into a series of encyclopedic paper bound 'manuals' with it's own website and organization, which, if you have a mind, you can become a member.  Foxfire's mission is to preserve the traditions and practices of Southern Appalachia, however virtually all the information can be adapted to anywhere in the world, as the practices are time tested and proven and will work anywhere.
The history below is taken directly from the foxfire website:
"In 1966, a new teacher at the Rabun Gap-Nacoochee School was struggling to engage students in his high school English class. In frustration, he asked them what they thought would make the curriculum interesting. They decided to create a magazine, honing their writing skills on stories gathered from their families and neighbors, and producing articles about the pioneer era of southern Appalachia as well as living traditions still thriving in the region.
They called it "Foxfire" after the glowing fungus that clings to rotted wood in the local hills. This spark of an idea, and the work that followed, has turned into a phenomenon of education and living history, teaching readers, writers, visitors, and students how our past contributes to who we are and what we can become – how the past illuminates our present and inspires imagination."
The good news is that for those who bargain hunt, older copies can be found for almost the original price (about $4 per volume) at flea markets, old book stores, and, of course, on line auction sites, such as ebay.   The older the copy and the better shape it's in, the price will be higher of course.  You can also go to on-line sellers such as Amazon and buy single copies, partial sets, and the entire set if you prefer.  It's all there for you.   I started with the single book, and after reading a few chapters, quickly went out hunting the other volumes!  My first is an original 1972 copy in 'like new' shape (at least it was when I bought it – now it's well-read and a bit worn).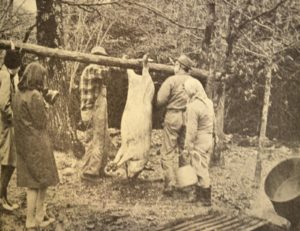 The first volume covers many subjects.  This is from the front overleaf, but is also on the cover as the image at the top of the post shows:  "The Foxfire Book – Hog dressing; log cabin building; mountain crafts and foods; planting by the signs; snake lore; hunting tales; faith healing; moon shining; and other affairs of plain living."
The books are not dry, either.  They're written exactly as the words were spoken and/or written by the people being interviewed, and keep your attention, and transport your mind into their world.  Plain speaking; they tell you why and wherefore with no pretense:  "this is the way I was raised up."
Get the first volume, "The Foxfire Book," and judge from there.  As you increase your interest, and decide to buy the second, third, and subsequent volumes, consider passing the ones you've read to someone who is of like mind….but you'll want to make sure they return it and get their own!