Posted at AP on 13 March 19.
As you may have read on an earlier post, I recently came into a DE .50AE and ordered a .44 mag barrel for it as I am looking to retire (sell – interested parties may drop me a note at defensivetraininggroup@outlook.com) my 629 in the original post as I like the magazine fed DE better than the wheel gun SW 629.  Habit and all.  I still have my favored SW 686, and 66, and a Colt Lawman III, but I like pistols better.  Now, don't get me wrong, the 629 is a sweet piece, very accurate, and a joy to shoot.  It is, however, to me, a PITA to clean, especially around the face of the cylinder, the inside strap, the forcing cone area, and so forth, the carbon so it looks good (ie, 'new').  I am OCD about carbon on a stainless side arm, just sayin'. The DEAGLE is much more forgiving when cleaning, and is very simple to get clean all the way down to detailed disassembly.  For whatever reason, carbon easily comes off standard finishes such as the Israeli DE I own.
On to the range test.  The week before, the new .44 mag barrel arrived, as did the extra magazines I ordered for each caliber (looking pays off as I averaged $38 per mag shipped (both calibers) – which is good for IMI factory mags), so did my new case (I had decided to build a case with both barrels, 4 mags of each, and at least 40 rounds of each caliber for travelling purposes.  Here's the case: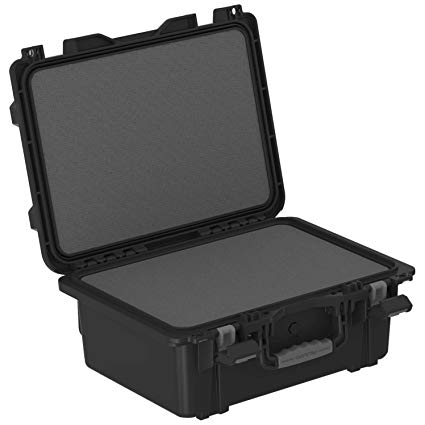 Didn't want to pay for a Pelican, and this one, by Plano, serves nicely.  Pretty rugged, and can secured completely for air travel.  I like it so far.  The only nit to pick is the top layer of foam is way too thick.  After I cut the outlines for everything I wanted, the DE had about an inch and a half of foam above it, so it can be jarred.  Don't like that, so I'll get myself a couple of thinner layers that hold it where I want.
During dry fire familiarization, I noted the trigger is very nice; no creep and breaks clean.  The standard iron sights are very well centered with no adjustment necessary, but they're black, so only good for illuminated scenarios (note to self:  gotta get some tritium sights! – Update:  Done.  Gotta get them installed!)
Range Day:  Got everything together and headed out.
Disclosure:  Until the .50AE, I had never fired any side arm larger than .44 magnum before, so I was mildly anxious as to what may occur when I touched off the first round.  I did some research and everything I read said the same thing:  "recoil is significant as is the fireball…." Great, I thought to myself; how's this gonna look when I fire the first round, put it back in the case and go home???  (I had fired a Desert Eagle in .41 magnum in '94, but only about 20 rounds, and only once.)
Well, time to cowboy up and put all that away, so….break it out!  I had purchased some .50AE ammo from Steinel; 335 gr flat-nosed FMJ.  Reasonably priced at a dollar per round.   Not 'nicely' priced ('nicely' to me is a 50% off sale, and then I buy a bunch!); but reasonably priced.  And it should go without saying that at that price, going to the range and popping off more than 20 rounds at a time will be extremely unusual.  Of course, other ammo manufacturers charge way more, so I'm not bitching; just being tight in the wallet (the Steinel 355gr pictured below is no longer made, but they have made a new 300gr JHP with Gold Dot projectiles).
The first 10 rounds of .50AE all hit the target at 25 meters, but the jerk behind the trigger needed some calming down….so I switched to the .44 mag barrel and did about 30 rounds of 240gr Federal American Eagle.  That seemed to help.  I save the last 10 rounds of .50AE for last.
Now, this Steinel ammo is fairly hot, coming out of the 6 inch barrel at 1410FPS.  BIG fireball; VERY loud.   Digression:  It was so loud that a shooter from several lanes down came over when I had completed the first mag and asked, "Excuse me, but WHAT exactly are you shooting?!?"   Of course I showed their party the pistol and they were very appreciative with the male partner asking his female partner if he could save for one…at that point, I decided to go back to my lane and shoot some more rounds.  Digression complete.
Bottom line is that the Steinel ammo shot so well (especially for my first time firing this caliber) that I ordered more for 'the next time'.  And yes, I'm considering hand loading it also.  Update:  Have ordered 100 rounds of Steinel's new 300gr JHP (Gold Dot) .50AE for Phase 2 of the range testing.
Ammo experimentation will be on-going; Buffalo Bore, for example, says that their hard cast 380 gr .50AE ammo doesn't clog the gas port (I still get a kick out of shooting a 'gas operated' pistol!).  Here's a quote from their site:  "Magnum Research warns against using hard cast bullets in the Desert Eagle, as the gas port can become fouled and I suppose this is true with soft bullets (these are very hard at around 22 BHN) with a plain base. Our load features a very hard bullet with a gas check on the base and in several hundred rounds of firing, did not foul the gas port on either pistol. "  So, I'm considering getting some of that for giggles.  One thing about that hard cast, heavy projectile:  the penetration is amazing!
During my .44 magnum shooting, I also used some Winchester 250gr Platinum Tip.  Both performed very well, as expected, and since it was my first time, I only went out to 25 meters or so.  All in all I shot 80 rounds.  The last 10 rounds I fired were .50AE at 20 meters at an 8.5X11 target pictured below.  Once I get myself disciplined with this new pistol, I think I'm going to really like it for days out in the bush where dangerous things live.  Of course, I'll carry 5 mags (overkill of course, but hey….).
As you can see, once I settled down, the group did, too.  All 10 rounds would have been immediately fatal.  So I'm happy with the new acquisition and it's capabilities.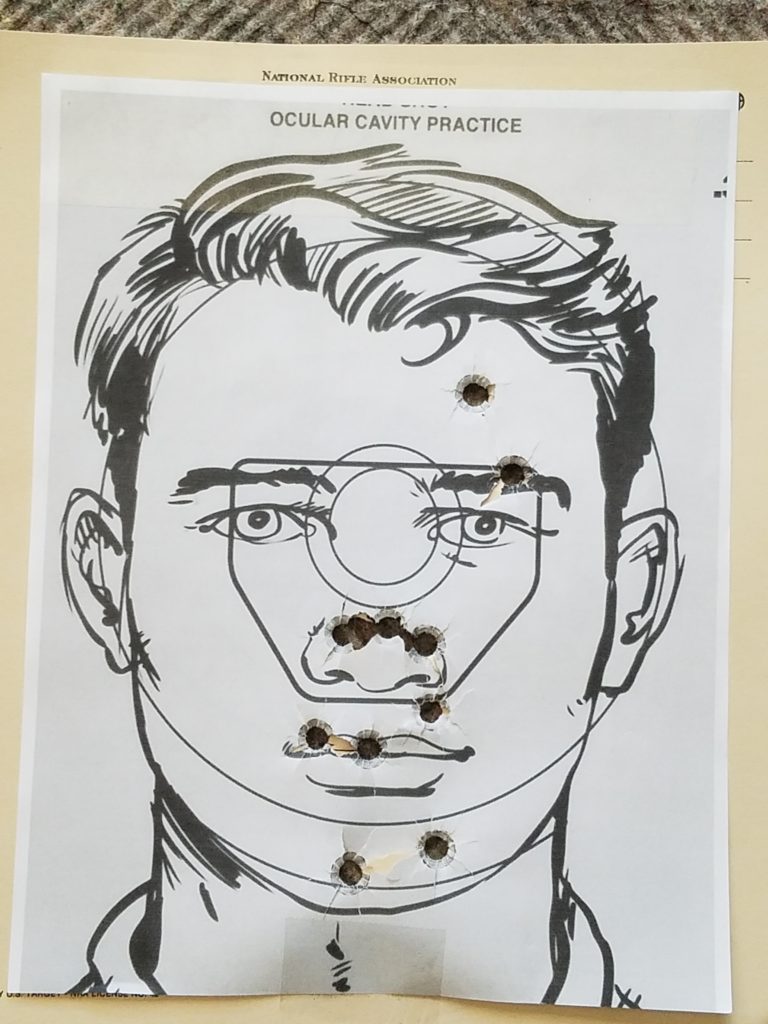 Next up on the improvements is to get Trijicon sights for both the .44 and .50AE barrels installed.  After that, it's basically practice, practice, practice.
To tell the truth, if I'd have known how well these handle, I think I would have purchased one long ago.  Now, I have 2 calibers that take about 5 seconds to change out from one to the other.   Versatility is great!